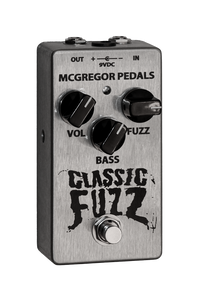 McGregor Pedals
The Classic Fuzz
Regular price
$185.00 USD
Sale price
$210.00 USD
Unit price
per
Due to demand, the McGregor Pedals Classic Fuzz is now shipping four to six business days after orders are placed. 
Introducing the Classic Fuzz Pedal from McGregor Pedals!
"We set out to design a pedal that truly captures the sound, feel, and response of the earliest two transistor fuzz pedals using all modern parts. Yes, the Classic Fuzz uses silicon transistors."
Huge thanks to Michael Schau and Anthony Della Croce!
 "This pedal was designed with Anthony Della Croce (The Headpins). We sent the final prototype to long time collaborator Michael Schau. Without trying it first, Michael started a drum track and stepped on the Classic Fuzz. These three and a half minutes are what he improvised and recorded in that moment. Later, Michael added the bass track that Anthony composed and they re-worked the drums."
External Controls
FUZZ: This allows you to dial in the amount of fuzz required. Since most of the action happens in the upper regions of the fuzz pot, we used a reverse log pot here so that the final 15% starts at noon.
BASS: this allows you to dial in the amount of bottom end you want. Fully right, this pedal is thick (!). for a sound more typical of modern silicon fuzz pedals, dial this back to suit.
Vol: This attenuates the post effect signal.
LED Brightness (unmarked trimpot on side of pedal unmarked): As someone who plays daytime outdoor shows, I wanted a super bright LED; however, this made it horrible to use in any other situation. So, I added a trimpot to that allows you to vary the LED Brightness from dark stage to bright sun. Please make the adjustment gently using a jeweler's screwdriver.
Internal Controls
T2 Bias: Internal Trimpot. Bias is set at the factory at 4VDC. If you are comfortable with re-biasing, feel free to adjust to suit, there is a bias test point adjacent to the trimpot.

Input: Full left this trimpot will provide the strongest fuzz; however, it will also be noisy with the volume on your guitar turned off (you might even pick up a radio station!). This trimpot leaves the bench set at ~11:00. This is to mitigate the "volume off" noise while still providing that Classic Fuzz of 1960's two transistor fuzz pedals. Turning this trimpot full right will result in a smoother, more distortion-like tone.

---
Share this Product
---