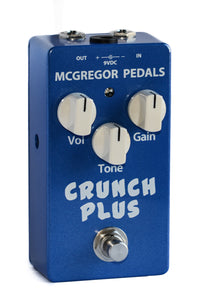 McGregor Pedals
Crunch Plus Overdrive/Distortion
Regular price
$251.00
Sale price
$285.00
Unit price
per
Due to demand, the Crunch Plus is now shipping three to five business days after orders are placed. 
 TL;DR - This is a Canadian made, hand soldered medium gain overdrive/distortion with an unusual, asymmetric hard clipping section that delivers a fat, dark, creamy, touch-sensitive sound with an edge.
With the Crunch Plus we wanted to build the perfect combination of low gain overdrive and medium distortion in one pedal: something that has both sustain and squish while remaining Thick and organic. The Crunch Plus is the culmination of nearly a year of development


What does it do?
The Crunch Plus circuit starts with a low-gain overdriven preamp section that leads into our take on asymmetric distortion resulting in a fat driven sound with a unique edge.
Controls
Gain: This controls the amount of gain driving the pedal's hard clipping. Minimum setting is similar to the Crunch Transparent Overdrive on 3/4 gain with a an added edge. The Crunch Plus pedal never loses that edge, it builds on it as you bring up the gain.
Tone: A mid-range control that works very much like the tone control on most guitars.
Vol: This adjusts the amplified and clipped signal after it leaves the tone filter.
LED Brightness (unmarked trimpot on side of pedal unmarked): As someone who plays daytime outdoor shows, I wanted a super bright LED; however, this made it horrible to use in any other situation. So, I added a trimpot to that allows you to vary the LED Brightness from dark stage to bright sun. Please make the adjustment gently using a jeweler's screwdriver.
Features
Touch-sensitive crunch, clarity, and sustain without muddy tovertones or buzzy top end" –Vintage Guitar Magazine, Sept, 2021
Anthony Della Croce from The Headpins adds the following:

LED Brightness ADJUSTMENT....no worries, this is not a DIMMER and will not interfere with your tone. What an awesome addition especially for us old guys on sunny day stages!
SIMPLICITY...dial your tone in without endless tweaking
"VERY QUIET...low noise compared to my other pedals
DYNAMIC with picking style and volume knob changes.
SECRET INGREDIENTS...yup, some secret HIGHER QUALITY components that make this pedal sing!!!
How to
With the Gain at approximately 1/3 or below the overdrive stage is engaged but only part of the distortion, resulting in an overdrive sound with a bit of an edge.
As you bring the gain up beyond the 1/3-ish area, the distortion circuit starts to bloom.
The tone control is a variable low pass filter, as you turn the pot counter clockwise you lower the corner frequency, attenuating the highs frequencies. For guitar, start with the control up approximately 2/3 and adjust to taste. For bass, start with the pot at noon and adjust to taste.
Technical
Type: Medium-Gain Overdrive/Distortion Pedal
Hand soldered in Vancouver, Canada
High grade components picked for their superior sound and response
True bypass with high quality switch
Three topside controls – Volume, Tone, Gain
LED Brightness controlled by side-mounted variable resistor (trim pot)
Low power draw: 9 - 13mA (9v) depending on LED setting
Audio Jacks and Power Connection located at the top end to help with packed pedal boards
2.6″ x 4.8″ x 1.5″ (66.5mm x 122mm x 38mm) – height excludes knobs and switches 
Power Adaptor
The McGregor Pedals Crunch Transparent Overdrive may be powered by a 9VDC adaptor. It accepts a standard filtered/regulated pedal power supply with a center-pin negative 2.1mm x 5.5mm plug (like Boss, Ibanez, etc.). If an adaptor doesn't seem to work, disconnect it immediately and check the polarity. Also, check that it outputs DC (not AC). Current consumption is 10-15mA depending on the LED setting.
Batteries
For my pedal designs I've opted to omit the battery compartment, primarily because batteries are environmentally unsound. Batteries contain acid and heavy metals that end up in landfills, in soil, and in the oceans. All my pedals are built with RoHS compliant parts; batteries don't make sense.
---
Share this Product
---