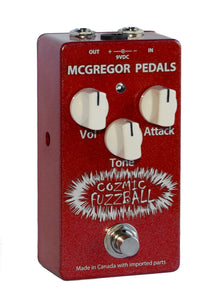 McGregor Pedals
The Cozmic Fuzzball
Regular price
$252.00
Sale price
$286.00
Unit price
per
TL;DR: A Canadian made, hand soldered pedal with fuzz, distortion, and overdrive all carefully cascading to form our unique take on the fuzz sound.

For the Cozmic Fuzzball, we set out to come up with something new. Almost every boutique fuzz pedal on the market is a spin on a classic circuit. For this pedal, we did not want to do that. We set out to design a pedal that would inspire something new, instead of looking backwards. The Cozmic Fuzzball has the classic overdriven transistor fuzz sound with distortion and overdrive layered in. We called the pot that dials in the amount of effect "Attack" in honor of some of those early, ground-breaking fuzz pedals.

 "...perfect for players looking to craft their own voice."
                                       --Vintage Guitar Magazine
What does it do?
With the Attack at minimum the pedal exhibits very little fuzz. At this point it is a distortion/overdrive. As you bring up the attack you start to layer in the classic fuzziness of an overdriven transistor.
"MCGREGOR PEDALS First-Ever Fuzz Pedal is Crunchy as Hell.

McGregor Pedals is taking the knowledge they've accrued from being in the overdrive pedal game, and using it to make one hell of a fuzz pedal."
Controls

Attack:

 This controls strength of the signal hitting the transistor; more attack = more fuzz and sustain, at the lower end with low output pickups the effect is distortion/overdrive. As you bring up the attack the distortion gets stronger. Soon you will hear fuzz starting to layer in. Pin the Attack and you are in fuzz-land. The output of your pickups will have a significant effect on how much fuzz is generated (as will your guitar's volume pot). Bass Players, start with the Attack near minimum and go from there.

Tone:

 this is a variable high pass filter; the left side of the range is more for bass guitar, the right for both bass and guitar.

Vol:

 This adjusts the amplified and clipped signal after it leaves the tone filter.

LED Brightness (Unmarked Trimpot on the side)
As a player who occasionally plays daytime outdoor shows, I wanted a super bright LED; however, this made it horrible to use in any other situation. So, I added trim-pot that allows you to vary the LED brightness from dark stage to bright sun. Please make the adjustment gently using a jeweler's screwdriver.
Features

Extremely sensitive to touch, picking style, and volume changes

.. dial your tone in without endless tweaking

Tone pot is a variable high-pass filter that allows you to adjust the bottom end without attenuating those classic fuzz overtones.

VERY QUIET (for a fuzz!) --low noise compared to my other fuzz pedals

DYNAMIC with picking style and volume knob changes.

LED Brightness ADJUSTMENT --no worries, this is not a DIMMER and will not interfere with your tone.

SECRET INGREDIENTS --yup, some secret HIGH QUALITY components that make this pedal sing!!!
How to
The amount of fuzz is largely dependent on the voltage delivered from your instrument (or preceding pedals). With a standard electric guitar, with the Attack at approximately 1/3 or below the Cozmic Fuzzball is mostly Distortion/Overdrive as you bring up the Attack, the fuzz starts to layer in.

The tone control is a variable high-pass filter. As you turn it clockwise, you raise the corner frequency and attenuate the low frequencies.

On Bass guitar, start with the tone pot all the way to the left and bring it up to taste. On electric guitar, start with the tone control at approximately 10:00 and bring it up from there.

Technical
Type: Fuzz pedal that cleans up to distortion-overdrive

High impedance input (doesn't have to be first in your chain)

Hand soldered in Vancouver, Canada

High grade components picked for their superior sound and response

True bypass with high quality switch

Three topside controls – Volume, Tone, Attack

LED Brightness controlled by side-mounted variable resistor (trim pot)

Low power draw: 12 - 18mA (9v) depending on LED setting

Audio Jacks and Power Connection located at the top end to help with packed pedal boards 
Power Adapter
The McGregor Pedals Crunch Transparent Overdrive may be powered by a 9VDC adaptor. It accepts a standard filtered/regulated pedal power supply with a center-pin negative 2.1mm x 5.5mm plug (like Boss, Ibanez, etc.). If an adaptor doesn't seem to work, disconnect it immediately and check the polarity. Also, check that it outputs DC (not AC). Current consumption is 10-15mA depending on the LED setting.
Batteries   
For my pedal designs I've opted to omit the battery compartment, primarily because batteries are environmentally unsound. Batteries contain acid and heavy metals that end up in landfills, in soil, and in the oceans. All my pedals are built with RoHS compliant parts; batteries don't make sense.
---
Share this Product
---